We've hand picked the top trails... Just For You!

Our Favorite Hiking Trails in Orange County
We hike a lot. That's one of the great things about Orange County. We're blessed with serene weather year-round. It is easy to soak in the southern California sun by taking advantage of the many beaches, pools, and parks. However, it feels so rewarding, in a primal way, to tackle the rugged and natural hills of Orange County. Surprisingly to many, canyons, slopes, mountains, and trails carve up a large chunk of the region. It's easy to forget about these beautiful opportunities in our own backyard. Too many of us get caught up in the Matrix - Just chugging along at our cubicles and getting through the day. Take a break from your workday to plan out your next hiking adventure! Here are our top 5 hiking destinations in Orange County!
Black Star Canyon Trail
This trail clocks in at right around 13 miles. It's one of the longer hikes, but it's certainly the best hike during the rainy season. You'll get the chance to see one of Orange County's few waterfalls. It's the result of natural rock formations and the remnants of an old mining shaft. You don't get to see stuff like that every day, now do you? But, that's not all Black Star has to offer. Rumor says that the area is haunted. There are freakish reports of ghosts, sasquatches, and other paranormal activity at night. We've never seen anything like that, though. You'll discover many historical artifacts such as the famous abandoned school bus, old western buildings, and more. This trail is a must see!
---
Peters Canyon Lake View Trail
8548 E. Canyon View Ave.
Orange, CA 92869
This is the perfect trail for beginner hikers. The Peters Canyon Lake View Trail is only 2.5 miles long and in a loop. It's, of course, located in the Peters Canyon Regional Park. If I had to describe Peters Canyon in 3 words, it would be "full of life". The Trail is adjacent to an enormous 55-acre reservoir. The available water means you'll have plenty of nature to take in, as there is an abundance of plants, birds, and waterfowl. Not only that, but you have access to an active running creek and a freshwater marsh. Talk about pretty!
---
Trabuco Canyon Trail
This one's for the history buffs out there. The Trabuco Canyon Trail stands at the mouth of an old abandoned gold mine. There are historical artifacts scattered about the area, but the most exciting is an abandoned mine car! In San Francisco, this may be a bit more common. However, in Orange County, this is an exciting sight to see! Not only that, but this trail is especially full of wildlife. The Trabuco Canyon Trail is more forested and shady than others, so you'll be able to see squirrels, salamanders, and more running around. Plus, the shade provides great respite during your walk.
---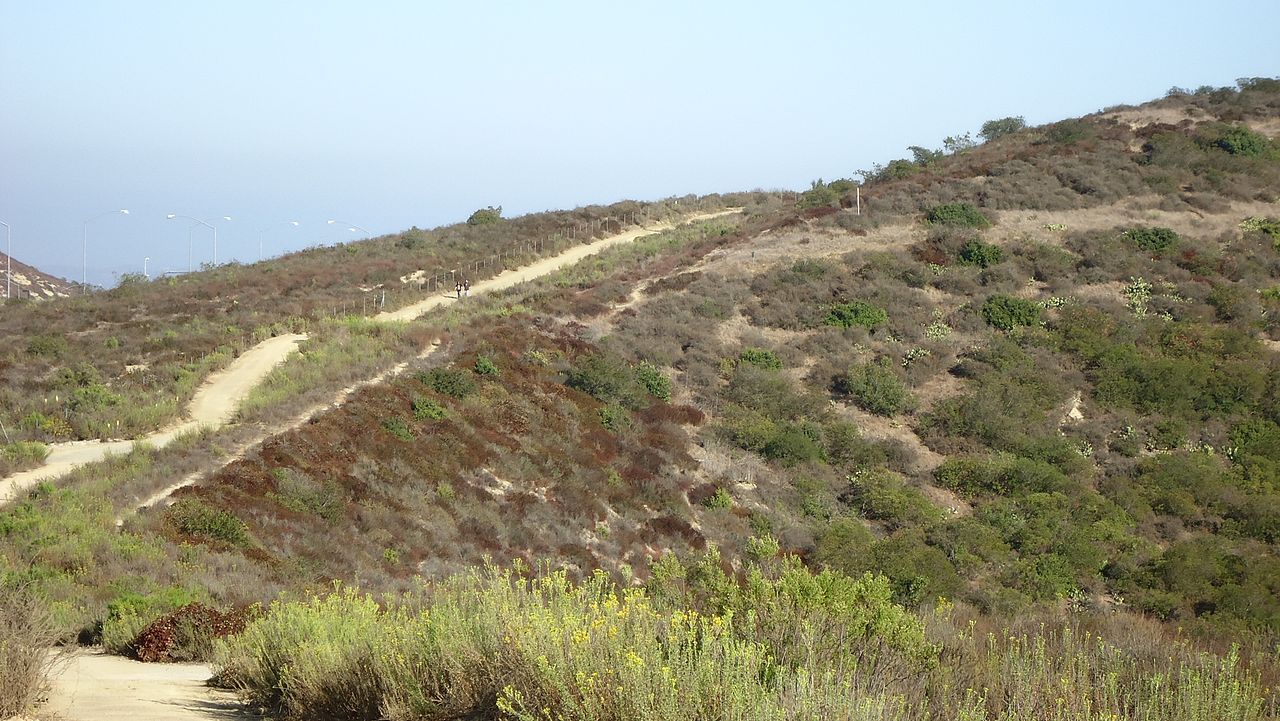 Barbara's Lake Loop Trail
I didn't know this trail existed for the longest time! Interestingly, Barbara's Lake Loop Trail is only 10 miles from the Irvine Spectrum! It sits inside of the Laguna Canyon Wilderness Park, and it's home to the only natural lake in Orange County. It's an easy 2.5-mile hike and it sports a stunning view of a 12-acre lake, indigenous plant life, and numerous species of ducks and birds. Considering it's right down the freeway, and it's one of the shortest hikes on our list, this is our pick for the perfect first-time hike!
---
Laurel Canyon Loop Trail
The Lauren Canyon Loop Trail is of medium length, at around 3.5 miles. It's located right next to the Barbara's Lake Loop as well. If you try one, you should definitely scope out the other as well. It features a winding trail that sports a large amount of vegetation and bright flowers. Also, it does have a difficult climb, as you traverse over many jagged rock formations to climb to the canyon's peak. As difficult as the climb may be, it eventually opens up to a picturesque and panoramic view of the canyon. Make sure to bring a good camera for this one - It's breathtaking!
Orange County. Some may think it's a corporate suburbia... But that's simply not true! We've got so many trails that even the most avid outdoorsman will find a suitable trail. We've included everything from simple beginner trails to rocky and winding hills. We handpicked our top five, so we're sure you'll 'take a hiking' to at least one of them!
Selling Your Home?
Get your home's value - our custom reports include accurate and up to date information.
Get Home Value