Vegan Sushi in Orange County?!
We tried vegan sushi, and yeah, we know it sounds weird... But it was damn good! Kenshō Sushi in Westminster is an exciting new spot, and you need to try it!
We're all about discovering unique culinary experiences. When we heard about Kenshō Sushi, we knew we had to find it. They make entirely plant-based sushi, and they opened up only a few months ago.
It's quite hard to discover this hidden gem. Their main form of marketing is word of mouth. Their restaurant is very small, and only seats about 15 people. They just have an Instagram account and no website. There's not too much you can look up about their company or their food unless you're reading our blog of course!
Upon entering, you're immersed in an Asian, hippy paradise. The walls are lined with pictures of nature, there are quotes about love and peace scattered around, and smiling statues of Buddha sit and watch you eat. At the front, you immediately see a large machine that serves as their on-tap Kombucha, and an open fridge with fresh, baby coconuts.
Also, since the restaurant is so small, you're tightly packed next to the other diners. When we ate here, it was almost impossible not to strike up a conversation with the customers next to you, and that's pretty cool! Especially in a place like this, everyone wants to comment on the decor, the menu, and ask about what they should order. Plus there are board games sitting around for diners to play with. Maybe next time we'll ask our sushi neighbors to a match of "Sushi Go Party!"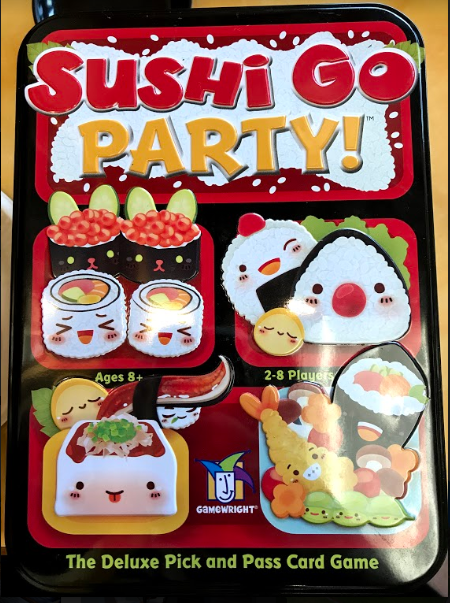 When you pick up the menu, it initially appears normal. At first glance, the roll's names are familiar. The usual culprits are around: You see miso soup, the "Crunchy California", the "Caterpillar Roll", and the "Spider Roll". However, upon closer inspection, you see the "Spicy Tuna-Less Roll". They replace all of the normal sushi ingredients with vegan substitutes. How they do that, I cannot fathom!
When we got the food, oh boy, it was crazy. You can't tell the difference between these vegan rolls and real sushi! First of all, they pass the eye test with flying colors. These don't look like cardboard knockoffs. In fact, their rolls are more instagrammable than most normal sushi restaurants! I got the "Yoga Fire" roll. It had "shrimp tempura", avocado, cucumber, "spicy tuna", "spicy mayo", green onions, and Korean chili shreds.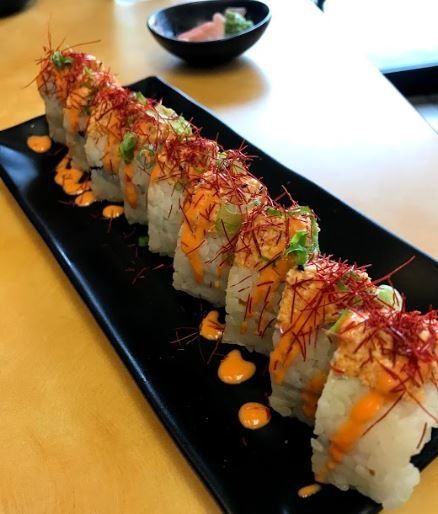 However, taste is the real test. And when I took a bite, I was even more surprised than when I saw it. Have you ever been so dumbfounded by your surroundings that you needed someone to pinch you, just so you can make sure it's real? I have. The "spicy tuna" had the same taste and texture as the real stuff. Heck, even the "shrimp tempura" was spot on. It had an audible crunch when I bit through the breading, and there was a distinctly fishy taste. I truly didn't know these flavors were replicable! I poked at the "shrimp tempura" with my chopsticks, and the texture was eerily similar. We played with all the food for a minute to make sure this stuff was actually vegan! We almost thought we were being punked!
I tried some of their caterpillar roll as well. It was an umami-ey, avocado-ey, delicious treat. It has "eel", cucumber, avocado, unagi sauce, and sesame seeds. Apparently, the "eel" is made from specially prepared shiitake mushrooms. For me, this was actually better than the original! Eel is kind of gross and slimy, so a substitute does the trick perfectly! And to top it all off, we ordered their matcha soft serve ice cream. Once again, it's totally vegan. Apparently, they prepare it in-house, using coconut rather than milk. I have to admit that it's ultra creamy and totally has that sweet matcha flavor I was craving.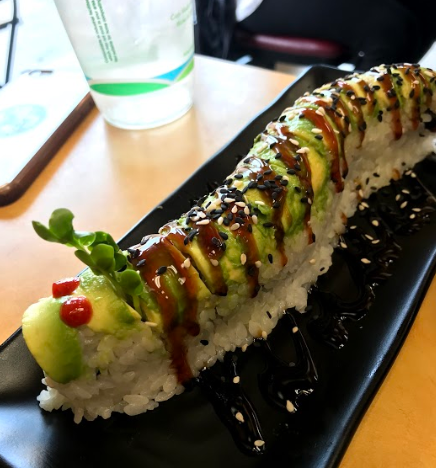 All in all, yeah, you've gotta' try this place out. This is the only vegan sushi place in Orange County, so you can't find this experience anywhere else. We all get caught up in the routine and eat the same boring stuff. Do something different this week and 'roll' down to Kenshō Sushi. I promise you'll be 'soy' happy you did.
Selling Your Home?
Get your home's value - our custom reports include accurate and up to date information.
Get Home Value